Putting Problems
The Tip: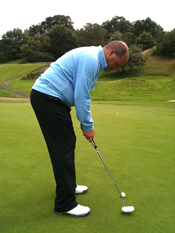 The key to turning good scores into handicap busting ones, is consistent putting.
We will all have no doubt experienced that day where everything clicks and the hole seems like a bucket, but more often than not it's a lack of consistency on the greens, that week in week out holds you back.
There is ultimately no correct way to hold the putter as recent techniques have shown to improve Sergio Garcia's putting stroke through his new claw grip, and also Adam Scott's by moving to a broom handle putter. The key here is whatever feels comfortable, which in turn leads to a more confident approach enabling you to get the ball in the hole more consistently.
Some fundamentals that will help you to putt better
be comfortable
position your eyes over the ball
aim the putter head square to the target
maintain a steady body
control the length of the stroke and accelerate through the ball
hit the ball out of the sweetspot
be confident
Clockface Putting Drill

Position one ball at each 3, 6, 9, and 12 o'clock on a clockface, approximately 3 feet from the hole and try and knock all 4 in. Once achieved, move distance out to 6 feet, and if your feeling really confident move out to 12 feet. This will make you deal with different lines and putt better under pressure.

3 Ball Putting Drill

Position 3 balls 20-25 feet from the hole. Go to school on each putt learning from line and pace i.e. if you miss short and left, make sure next putt isn't short and is more on line with the hole. This helps you to narrow down your target and if you learn quick, you will start to hole more putts.

Whether you struggle with your tempo, reading greens, long or short putting, or have a serious case of the yips? Let us sort your short game out with simple and effective putting tips and drills you can take to the course with ease.
Call the Lesson Hotline: 0141 772 7102